The Juggernaut War Party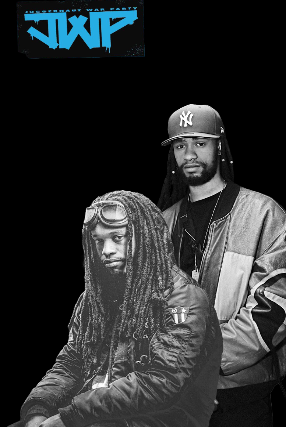 JWP is a FUNK ROCK HIP HOP SOUL Crew that is headed by the leadership of a BROOKLYN, New York Hedgehog by the name of Qaasim "DRK" Middleton, aka, "The Strongest". Qaasim has been singing and writing music since the age of 10. He got his first start as a musician at the tender age of 2 & 1/2 years of age when he was playing percussion and singing live on stageand, and when he was just 9 years old, he was one of 5 children prodigies featured on the HBO family series, "The Music in Me". That following year, he landed a series regular role on Nickelodeon's "Naked Brothers Band" He went on to gain the Top 8th Spot on FOX's Season XIV of "American Idol," as well as a recurring role with his brother Khalil on the Netflix series, "The Get Down." Also moving on to play the role of "Senator K" on the show "Atlanta" on FX. Qaasim went on to create the Juggernaut War Party for Afropunk's Battle of the Bands and the crew has been growing and melding ever since. They won Afropunk's Battle of the Bands 2 years in a row which garnered them a position to perform on the Afropunk Stages! Qaasim says his music is influenced by the likes of J-Dilla, Prince, Michael Jackson, John Mayer, D'Angelo, Stevie Wonder, Ray Charles, and Flying Lotus. And you can see, hear, and feel those influences when you experience Qaasim & The Juggernaut War Party.
Khalil Middleton aka "Tall The Rilla" of JWP is the co-leader of JWP. He has come into his own as an actor, singer/songwriter, Rapper/MC, dancer, writer and model. As a child, he appeared on Nickelodeon's "Naked Brothers Band", "Jacks Big Music Show" and HBO's "The Music in Me" with is brother, Qaasim. Both were series regulars on Netflix's "The Get Down" as members of DJ Kool Herc's crew. Khalil has been a featured actor on "The 22", "City on a Hill', "When they See Us", "Steps the Movie", "16 Bars" and most recently as Jennifer Lopez's videographer in the film, "Marry Me". An upcoming singer/songwriter, Khalil holds his own not only as an actor, but also as a prolific Rapper/MC. Stay tuned for Khalil Middleton as he chases his dreams as an entertainer, director, and videographer/cinematographer. Big things on the Horizon for him as a recent graduate of the esteemed Full Sail University with a B.S. in Digital Cinematography!