TYJHAI STEPHENS AKA TR3MIND the DJ w/ EBONI PEARCE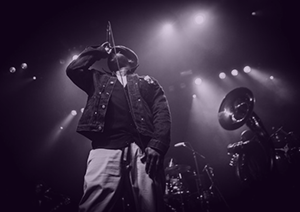 Tyjhai Stephens aka Tr3Mind our DJ for the night, is a Brooklyn raised multidisciplinary creative who provides a unique expression of creativity and growth in many fields including music production, dance, percussion, keys, and more. Tyjhai has played with the likes of OSHUN, Qaasim Middleton & The Juggernaut War Party, and YBM Live as a keyboardist, percussionist, and DJ. Basa also has experience as a Music Director with live band projects. Not only has Tyjhai worked with musical artists but choreographers as well, creating cinematic scores that have made it to platforms like ABC's, "The Chew,"Balance Dance Theatre, and MAAT Works Dance Company. Basa also has a background in West African dance and culture, performing with companies like Balance Dance Theatre, Bambara Dance Company, and Asase Yaa.

Eboni Pearce is Jersey born and raised with Brooklyn Influences and Bahamian, Southern and Cherokee roots. Eboni's music has been curated with the ingredients of R&B, Soul, Jazz, Folk, Rock, and HipHop. With Songwriting, Vocals, Guitar, Visual Art, Culinary Art, Jewelry Making, and the list goes on; Eboni Pearce is the true definition of an Artist. All that's left to do is share it.