Jules Olson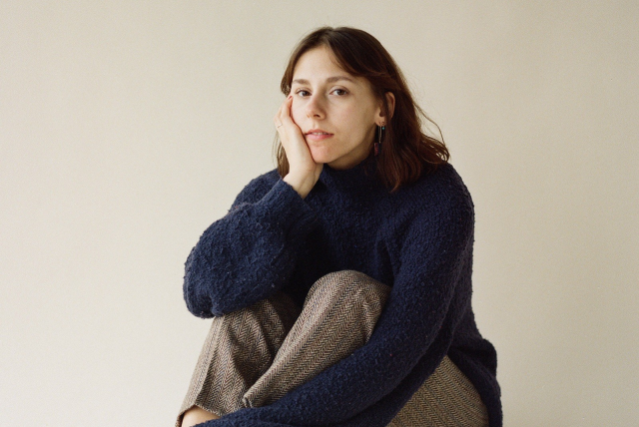 Jules grew up in a small town located in upstate New York, just outside the city of Albany. Growing up, music was a huge part of her life, primarily taking the role of a constant safe space. She took piano lessons, studied flute in the high school band, and sang in choir, but mostly sang for her self outside of school. In her final year of High School her band teacher gifted her an acoustic guitar, which led her to fall in love with the instrument that would later be a vessel for her songwriting. She then studied at SUNY New Paltz, beginning her education there as a Music Therapy Major, and during her sophomore year, decided to pursue a degree in Jazz Performance. She had the opportunity to study with vocalists such as Machan Taylor, Teri Roiger, and Katie Martucci. In 2019 Jules began to perform and record her own music. Since then, she has won competitions sponsored by Pick Up Music, opened for artists like Pinegrove, Caleb Hawley, Joanna Teters, Sophie Marks, and The Big Takeover, as well as playing venues such as The Bitter End, The Colony, The Falcon, Rockwood Music Hall, and Daryl's House Club.
Jules began writing music at a very young age, sharing silly songs with her parents in the living room. In her early years, artists like John Mayer, Sara Bareilles, and Bon Over inspired her to write. In college, she was heavily inspired by her surrounding peers in the Jazz program, and took influence from artists such as Allen Stone, Stevie Wonder, and Lianne LaHavas.
When March of 2020 came around and the pandemic hit, the world of live performance went dormant. Jules took this time to write, and really began to zero in on her unique sound. She released her first EP called "Travel Guide" on May 29th of 2020, reminiscent of Lianne LaHavas, Gillian Welch, and John Mayer's "Room For Squares" era. The EP is directly inspired by Jules' love of travel, the outdoors, and how those things have served as healing during hard times. Each song was written in a different part of the country, and touches on a new corner of Jules' mind. After the summer of 2020, Jules moved to Bozeman, Montana. This gave her the space and solitude for new inspiration, and self discovery. She dove into classic country music, old folk, and indie rock. Here is where Jules really began to feel like herself as an artist for the first time, finding the ability to be gracefully honest and vulnerable through songwriting, and focusing on the art of language in song. Her unreleased work holds space for the listener to feel deeply and hopefully find healing through shared experience. With her talents for sweet vocals, soulful melodies, and honest melodies, Jules creates a beautifully emotional experience through every song.