Qaasim & The Juggernaut War Party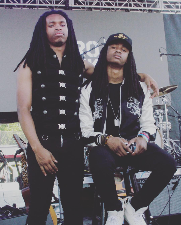 Enter the Juggernaut! Founded by frontman Qaasim Middleton (American Idol, Naked Brothers Band, HBO's Music In Me, Netflix's "The Get Down, FX "Atlanta") Juggernaut War Party is quite a collective, consisting of Qaasim, (lead vocals, guitar), his brother Khalil (vocals, MPC), lead guitarists Jonah Hudson, Emmet Sher and Joseph Deadwiley, drummer Andres Valbuena, keyboardists Jack Gruber, Tyjhai Stephens and Francisco Haye, with Ethan Cohn and Paul Johnson on bass.
You may remember Qaasim from his awesome run on American Idol Season 14, when he performed with Chris Brown and Pitbull and was lavished with praise from J-Lo, Harry Connick Jr. & Keith Urban. However, After returning from Idol, The Juggernaut War Party concept was birthed at AFROPUNK BATTLE OF THE BANDS BROOKLYN, on June 22nd, 2015, when Qaasim and his bandmates entered the contest to showcase their skills and original Funk/Rock/HipHop/Soul fusion material. They did extremely well for a brand new group, making it to the very end, eliminated in the Finals. This year, Qaasim & The Juggernaut War Party came back with a vengeance! They entered the AFROPUNK BROOKLYN BATTLE once again, and won the online voting round and the preliminary round, and came back again to win Runner-ups in the finals and, thus, won a spot to perform live on stage in this year's Afro Punk Festival!! What a feat well-deserved!! They are back with even MORE vengeance to TAKE the TITLE and win the throne of The BOTB's with hopes of capturing a FEATURED spot, once again, on the AfroPunk Stages..but THiS TIME as WINNERS!! This group will absolutely delight you with music that will touch your heart and soul!!
ARE YOU a JUG or NOT? #JuggernautWarParty2017