Plastiq Passion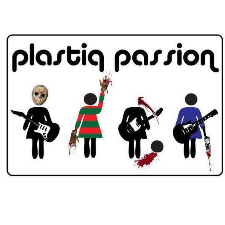 Plastiq Passion is comprised of 4 phenomenal females; the enigmatic and entrancing Jessica Chaos on vocals, the quiet/ no-so-quiet shredder extraordinaire Deborrah Sanchez on lead guitar, the radically tall radically badass Christine Simon on bass, and the unbelievable unstoppable animal on drums Stacey Lee!
Together their energetic and passionate live shows continue to give people a reason to keep coming back for more. These New York City natives have rocked the tri-state area as well as across the nation, ever since their US/ Canadian tour. Plastiq Passion has opened up for such notable acts as The Misfits, Tegan & Sara, The Cult and Dramarama.
With their 4th album in the works Plastiq Passion is ready to blast back on to the music scene swinging. Collectively they have a goal to play every single rock venue in the world including, but not limited to, your basement. So keep a look out for these four hardcore momma-jamma's and don't mess with them, because they have a black-belt in bar stools and they're certified to steal your hearts.
Plastiq Passion rocks out like no other!